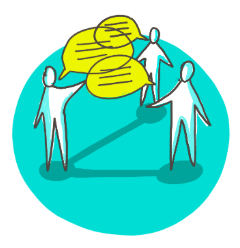 Share stories that inspire and connect with your audience
We gather stakeholder perspectives to capture stories and create a narrative that connects with your purpose and helps you communicate it effectively to maximise your impact and actively engage with your audience.
WHAT WE OFFER:
 Communication strategies 
Stakeholder analysis 
Social media campaigns & community management 
Visual representations of complex information 
Illustration and animation 
Reports & guides
FOR WHOM?
Individuals working for international companies, associations, networks or EU projects ready to actively involve stakeholders in communication activities.
WHAT ARE THE BENEFITS? 
Translation of complex concepts into appealing & understandable content 
Increase exposure, overall reach of your channels, audience engagement levels and mobilization for your cause 
Creation of a community involving essential stakeholders 
Collection of meaningful insights 

Combining Communications, Creativity and Participatory Processes for Maximum Collaborator and Customer Engagement Have you or your team ever experienced tensions when designing a project? This can happen when you and your partners or colleagues are creating a concept...
read more