Combining Communications, Creativity and Participatory Processes for Maximum Collaborator and Customer Engagement
Have you or your team ever experienced tensions when designing a project? This can happen when you and your partners or colleagues are creating a concept or brand or developing a new idea or initiative. In this article, we will address how to combine participatory processes, communications strategies, and creative industries to maximize impact.
There are different methodologies and practices that support the collaborative creation (Co-creation) process. These practices can be applied in any type of project involving more than one team, department, and/or stakeholder. But what is co-creation about?
Co-Creation: A two-way, open and dialectical process of interaction, collaboration and knowledge sharing between a firm and its stakeholders, whereby the participating parties engage in a dialogue to jointly define and solve problems in a shared distributive environment. IGI Global
Adding a co-creation process in the design of a communications campaign strategy will make a difference in the commitment, deliverables, and assertiveness to achieve the desired goals. It is important to keep in mind that this process requires an innovative way of thinking that benefits everyone involved.
This means that some of the initial assumptions may be confirmed and others may be redefined. In order to add co-creation to our communications services, at SenseTribe we created a 3-phase process: 1. Strategy Co-creation; 2. Media content production and 3. Promotional activation.
Phase 1: Strategy Co-creation
During this participatory process, we team up with your team to address the collective needs and explore the potential of the team's collective intelligence. In this phase we will identify the real needs of the project and define its goals, target audience, key messages, required media content as well as how we will communicate about it. The co-creation process will ensure all voices are heard and taken into consideration, enriching the quality of your communication strategy. 
Phase 2: Media Content Production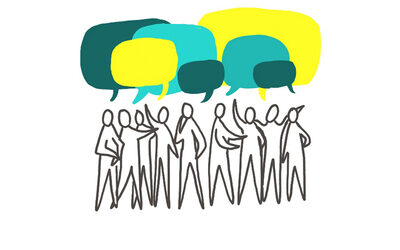 At this stage, we apply our expertise in creative industries. Based on the outcomes of phase 1, we co-create the creative concept together with your team and clarify what the best ways to present the project are. We start producing content bearing in mind what your team has defined as priorities. The media content for the campaign may include websites, videos, animations, magazines, guides, infographics, etc. It is important to have a clear understanding of the audience of your initiative, this way we can optimise resources by creating high-quality communications products that will ensure the message is true to the project and ideal to engage the target audience.
Phase 3: Promotional Activation
Now it is time to reach out to your audience, communicate about your project across different channels as defined in phase 1 of the process. These channels can include newsletters, Webpages, organic and paid activation on social media and offline actions focusing on marketing and relationships. Usually, this phase may take place alongside the previous one. For example, while we are working on developing the media content we can already start social media or email communications around the project. 
We at SenseTribe are a dedicated team working to help you achieve your goals. Check here for more content about collaborative creation and familiarise yourself with the way we work. Feel free to contact us, we are happy to join you on your next journey.
---