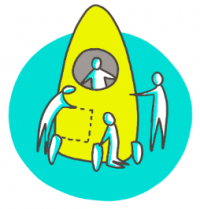 Activate collective wisdom at events and stakeholder gatherings
We transform events and conferences into facilitated participatory experiences where collective wisdom is captured visually, in a text and/or online. A meaningful experience that naturally results in an increased sense of involvement and belonging.
WHAT WE OFFER:
Design of participatory events 
Event facilitation and Co-Creation 
Graphic recording/ facilitation 
Harvesting outcomes (reports, magazines, visuals, videos…) 
Social media event activation 
FOR WHOM? 
Individuals working for international companies, membership associations and networks, eager to reinvent the way they organize events.
Main work areas: 
Communications / Marketing / Public Relations / Corporate Social Responsibility / Management / Research
WHAT ARE THE BENEFITS?
Innovative conferences with space for active participation 
Increase stakeholder involvement, followers and reach of the event 
Collaboration on a shared outcome (report, statement, policy paper, vision etc) 
Plenty of opportunities to network and contribute

The Flow Game is a powerful tool for companies, teams and leaders who decide to take advantage of these moments of uncertainty to connect with what is most essential, spend time around significant questions, deeply explore blockages and difficulties, generate clarity...
read more